Items members have asked to be made generally available:



Members news

Honorary Members

Roger and Liz made made
honours members in 2019
.
Roger and Liz
from USA,


Indiana section


on 9 September 2019
February 2020

Simon and Gill on tour

India



Royston Evans RIP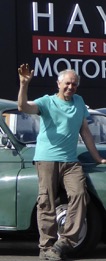 The year began sadly with the funeral of our member Roy Evans on 18 January. Eleven branch members attended the packed service at the Church of the Holy Cross, Sherston, in tribute to a much-loved local man. Roy was a firefighter in Malmesbury for over 18 years and ran his own wrought-iron business. He made Malmesbury Town Gates, which are by the river Avon as you enter the town from the Chippenham direction. His last journey was on the vintage fire engine used on the occasion of his marriage to Juliet. In memory of Roy, NWMMOC has made donations to Dorothy House Hospice and a pancreatic cancer research charity. Our thoughts are with Juliet and the family.